But don't. Busy Philipps Gali-fia-nakis (Bonus: sounds like Gali-fi-nakis). Dan Aykroyd Not to be confused with Nicole. Jef Holm One F is enough, thanks. Courteney Cox I'll have a cougar with a side of E. Avril Lavigne Man-ga-niello (Bonus: sounds like Man-gi-nello). Kristin Cavallari A lot of alliteration with this one. Arnold Schwarzenegger Remember Busy Philipps? Ryan sees her L, then raises her one. Barbra Streisand Don't forget the E, though it's pronounced just like Lord. Nicolas Cage Double the X, double the fun. Amanda Seyfried Qu-ven-zhane (Bonus: sounds like Kwa-van-je-nay). Will Ferrell Two Rs, two Ls, two Es.
Miley Cyrus is in full control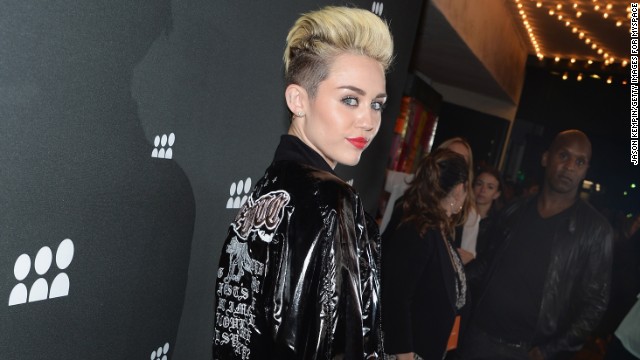 The father and daughter team make a New York appearance for the Disney Channel in February 2006. Cyrus performs during the Radio Disney Totally 10 Birthday Concert in July 2006 in Anaheim, California. Cyrus chats with VJ Susie Castillo during an appearance on MTV's Total Request Live in February 2007 at MTV Studios in New York City. Cyrus starred with Emily Osmand in an episode of "Hannah Montana" in June 2007. Cyrus appears at the 2007 American Music Awards in Los Angeles. The actress arrives at the Teen Vogue Young Hollywood Party at Vibiana in September 2007 in Los Angeles. Cyrus arrives at a film premiere in Hollywood in January 2008. Cyrus performs for ABC's "Good Morning America" at New York's Bryant Park in July 2008. Cyrus appears at the Nickelodeon Kids' Choice Awards in Westwood, California, in 2009. Cyrus performs during her "Wonder World" tour at Nassau Veterans Memorial Coliseum in November 2009 in Uniondale, New York. Cyrus and her mother, Tish Cyrus, at the 52nd Annual Grammy Awards in January 2010 in Los Angeles. Cyrus impersonates singer Justin Bieber in a Saturday Night Live skit with Vanessa Bayer in March 2011. Cyrus performs at a music festival in June 2010 in Arganda del Rey, Spain.
Join the Nation's Conversation To find out more about Facebook commenting please read the Conversation Guidelines and FAQs Celebrity to host 'American Idol' finalists at sea Fran Golden, Special for USA TODAY 12:34 p.m. EDT October 3, 2013 "American Idol" runner-up Blake Lewis will appear on a Celebrity cruise. (Photo: Handout) SHARE 8 CONNECT 44 TWEET COMMENTEMAILMORE Celebrity Cruises is launching a series of concerts, Q&A sessions and autograph signings by finalists from past seasons of the popular Fox TV show American Idol. On the line's Christmas cruises in the Caribbean, two American Idol singing artists will perform on each sailing. The lineup includes runner-up finalists Bo Bice (fourth season) and Blake Lewis (sixth season), as well as Elliot Yamin, who placed third in the show's fifth season and whose self-titled album debuted at number one on the Billboard Independent Albums chart and number three on the Billboard 200. Also appearing onboard will be Kimberly Caldwell (second season), Melinda Doolittle (sixth season), Matt Giraud (eighth season) and Mikalah Gordon (fourth season). The Caribbean holiday sailings include week-long cruises on the Celebrity Reflection, Celebrity Summit and Celebrity Silhouette; a five-day cruise on the Celebrity Constellation; a 10-day cruise on Celebrity Equinox; and a 14-day sailing on the Celebrity Eclipse. The Reflection sails from Miami, the Summit from San Juan and the other ships from Fort Lauderdale. The cruise line scheduled the artists as part of its partnership with Las Vegas-based Nite Raiders entertainment, Celebrity officials said. Fran Golden is the Experience Cruise expert blogger and a contributing editor of Porthole Magazine. She is the co-author of Frommer's Alaska Cruises and Ports of Call.